Baru-baru ini menyelesaikan kursus online gratis di Google Digital Garage
The Fundamentals of Digital Marketing, terdiri dari 26 Modul belajar. Cukup telat karena rencana selesaikan kursus ini 2 tahun yang lalu, menyesal baru bisa selesaikan sekarang. Bagi Anda yang selalu punya curiosity akan hal-hal baru dan menyenangkan, kursus gratis ini cocok untuk Anda. Lagipula bisa dapat sertifikat yang bisa dicantumkan di profile LinkedIn Anda, cool!!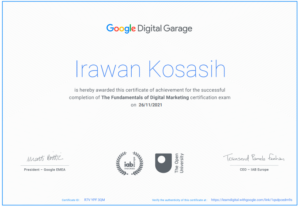 Next, saya akan ambil Google Data Analytics Sertifikat Profesional di Coursera, dan kali ini berbayar (murah pula).